MODERNIZE YOUR BUSINESS WITH US 🚀
AFFORDABLE & CREATIVE WEB DESIGNS FOR
Did you know that 97% of customers search for businesses online? Make sure they find you!
We are a Montreal based affordable, creative agency helping small-to-medium enterprises and startups upscale, by building their online presence. We work completely remote and visit you either at a coffee shop or a co-working space to discuss your project. Providing the freedom of a convenient location and accessibility.




We've Got You Covered
services we offer
Brand Design & Strategy
Behind every beautiful design is a well thought-out strategy.
Manage Social Media
Grow your business on all social platforms. Give your business the edge!
Audience Analytics
Analyzing your audience statistics will ensure a high conversion rate.
eCommerce Solutions
Whether you have products to sell or are into dropshipping, we can do it!
Content Creation
Sit back and enjoy our content creation process. We are your partners.
Email Marketing
Update your clients on a daily, weekly, monthly or yearly basis!
Fully Responsive
The world is becoming more mobile oriented. Don't miss your chance!
Website Consultants
DNS, Hosting Services, Domains? Want to learn more about the web? Call us!
Work With Us!
Let's build a new story together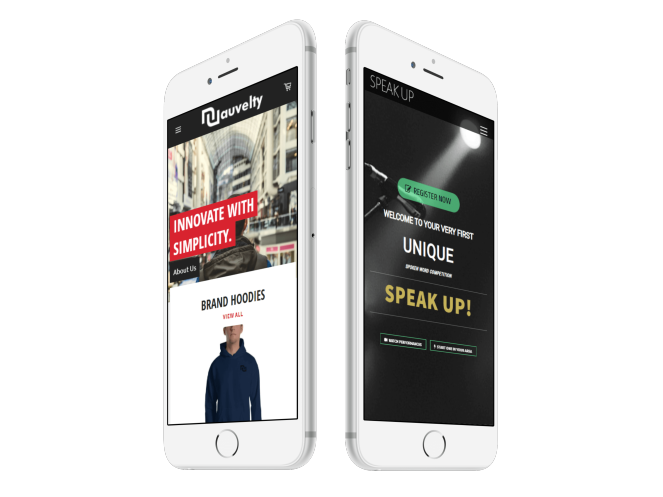 On All Major Platforms & Devices
⅔ of the world's population own a phone? Nowadays the number of mobile users are increasing faster and faster and it is important that we stay up to date.
Our developers and designers are hard at work to make sure your website is fully responsive, i.e. mobile friendly!
"very quick turnaround times!" 
Emreld has proven to be a strategic partner in revamping our intranet site. Their courteous and practical approach, combined with quick turnaround times were great assets for our team. I would highly recommend their services!
Julien Simard, Legal Counsel, Pharmascience INc
"Clear and concise technical support"
Emreld Agency has had a tremendous impact in helping me shape my website the way I envisioned it to be. One of the many things I appreciate the most is the always clear and concise technical support along with providing great insight and value. Great designers, great team, easy to work with.
David Lin, COO & CoFounder, Canadaeduacademy
"Efficient web design"
Emreld helped update our servers and redesign our website. On behalf of the Montreal Global Shapers, thank you Emreld for your creativity, responsiveness, and trouble-shooting!
Viva Dadwal, 

Curator 2017-18

, 

Global Shapers Montreal
Frequently Asked Questions
How long does it take you to build a website?
depends on a lot of factors and mainly up to the client providing us the content of the website, a brief idea of how they'd like the layout of the site or their deadlines. However, from past trends, ideally it takes 1 month.
What if I'm not satisfied?
has never been a case where one of our clients have been unsatisfied. Our clients are core to our success, and as such we try to maximum satisfaction. However, it can definitely happen, and when it does, we try our best to find a solution or issue a full refund (minus the initial set-up fee).
Is there a contract for any of the plans?
All plans are one time payments, for the duration of the project.
What's the process?
as 1, 2, 3 and 4!
1. First select the plan of your choice and submit the project proposal form.
2. Once your project proposal has been processed by one of our teammates, we will send you an email (or call) with an invoice attached.
3. You will need to pay directly on the invoice through our safe and secure Stripe payments provider.
4. The project will commence.
Are there any monthly payment options?
however monthly payments can only be requested after a website project is completed. With monthly payments we will handle website backups and any technical issues that may arise with the website.
Is there a free consultation?
all inquiries sent to our email and on the contact form are completely free and yes, we do answer all kinds of questions. Moreover, a better alternative is simply giving us a call which will accelerate the process and that's also free. However, for in-person meetings we charge a flat rate of $15/hr; invoice for in-person meetings are sent right after the meeting has been completed.
Can you edit any design/content on the website after the project has completed?
for any requests after deadline of project, there is a a fixed hourly rate on your proposal sheet. Please contact us if you require any further help beyond deadline.
Are there any other fees we should know of?
only for your Hosting+Domain name. We do not cover the hosting of your website as we are not a hosting provider but we can help you purchase a hosting+domain set from one of our reliable and affordable partners.
I don't know how to budget for this, can you help me?
Please give us a call or message us and we'll help you out for free!
Are you as affordable as you claim?
Feel free to do a quick search and check out others' pricing! We incur a strict fixed pricing scheme.
How do you take a payment and is it really safe?
payment process is well secured. Clients are only able to pay for a project once it has been processed. We will then either send you an invoice to pay right away or give you a call so you can be on the line with us while going through the invoice. Our payment gateway is through Stripe.
What if I need additional pages?
you require more pages than your plan allows for, please contact us as there is a fixed rate for adding additional pages outlined on your proposal.
Message Us! 💫
If you don't know which payment plan suits you the best or would like to get some tips on your project idea or simply grab a coffee? Don't hesitate!
Emreld is a Montreal based creative web agency. We provide a wide range of affordable services for small-to-medium enterprises and startups to build an online presence. For a personalized quote, please contact us.
Our website and all payments are made through our payment systems and are secured with Comodo SSL Encryption and Stripe.
We specialize in developing and designing websites using WordPress, Shopify, Squarespace, Wix and custom HTML, CSS & JS.