MODERNIZE YOUR BUSINESS WITH US
Emreld Web Design Agency
A creative and results driven team creating websites your clients will remember.
Get To Know Us
Montreal's youngest creative web design agency. Under 25, with a modernistic vision to upscale businesses; we will go the extra mile for you and make sure your story is told.
With us you'll take giant leaps toward modernizing your business, conversions, and working with an amazing team that invests in you.




Let's Impact Together
Work with Emreld to make the world a better place.
Donate to a Charity of Your Choice
By default, 5% of your proceeds will go to an organization of your choice.
Refer Us = FREE Emreld Apparel
Recommend a friend to us and get a free Emreld apparel of your choice (more info.) –
unavailable for the moment
.
We've Got You Covered
Here are some awesome services we provide
Brand Design & Strategy
Behind every beautiful design is a well thought-out strategy.
Manage Social Media
Grow your business on all social platforms. Give your business the edge!
Audience Analytics
Analyzing your audience statistics will ensure a high conversion rate.
SEO
Optimize your website so it can be displayed on all engines.
Content Creation
Sit back and enjoy our content creation process. We are your partners.
Email Marketing
Update your clients on a daily, weekly, monthly or yearly basis!
Fully Responsive
The world is becoming more mobile oriented. Don't miss your chance!
Website Consultants
DNS, Hosting Services, Domains? Want to learn more about the web? Call us!
Work With Us!
We do everything to satisfy our clients. Let's start a new story together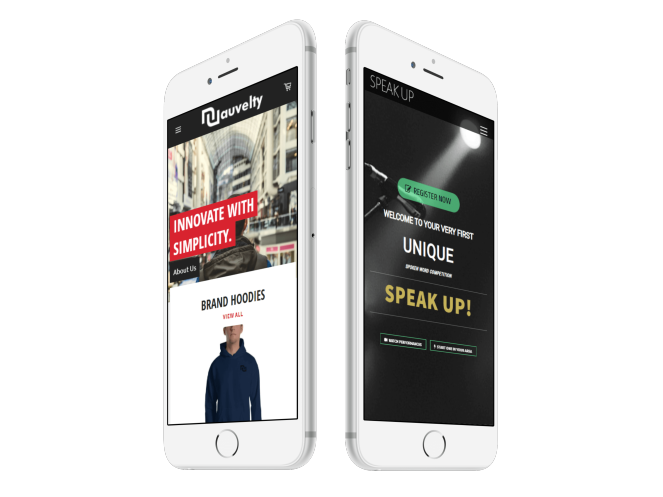 We Make it Easy to Connect On Every Platform
Did you know that ⅔ of the world's population own a phone? Nowadays the number of mobile users are increasing faster and faster and it is important that we stay up to date.
Our developers and designers are hard at work to make sure your website is fully responsive, i.e. mobile friendly!
Projects
SOME OF OUR LATEST WORK!
Education | Travel
Complete brand and web design from A-Z. CanadaEDUacademy is an educational program that provides students an opportunity to study abroad. Their program structure outlines just exactly how to apply and what to expect. 
Product | Pharmaceutical
Redesigned the entire website + full responsiveness. G.I. Solutions focuses on gastrointestinal (G.I.) diseases such as colon cancer. They currently have 3 products and clearly describe how to prepare for a colonoscopy the right way.
Supplement | Startup
Strategized and designed a high quality look and feel. Supra Nootropics is a McGill based startup that is looking to provide students nootropic, high quality supplements that can effectively boost a student's studying capacity. 
We Invest In Our Clients
YOUR SATISFACTION = OUR Priority
Emreld has proven to be a strategic partner in revamping our intranet site. Their courteous and practical approach, combined with quick turnaround times were great assets for our team. I would highly recommend their services! Julien Simard
Emreld was in charge of rebranding my product's website. They finished the assignment in record time while still being methodical with the fine details requested. 
Emreld went above and beyond as they even brought recommendations to the table.
They did terrific work and I wouldn't hesitate to recommend them to anyone in need of their expertise.
Julien Chaumillon
Emreld Agency has had a tremendous impact in helping me shape my website the way I envisioned it to be. One of the many things I appreciate the most is the always clear and concise technical support along with providing great insight and value. Great designers, great team, easy to work with.
David Lin







What can we help you with?
One of our team members will follow-up within 24 hours!
Location
Montreal, QC CA
Hours of Operations
| | |
| --- | --- |
| Monday – Friday | 9:00am – 5:00pm |
| Saturday | 11:00am – 5:00pm |
| Sunday | Off |